Welcome To Refined Elements
Refined Elements is a Texas based LLC which specializes in inspired natural design, live edge furniture, solid hardwood furniture and specialty lumber sales.  We are one of the very few business in the U.S. that is actively focused on all aspects of our materials from the "tree to your home".  Our heirloom pieces are known to command immediate attention and focused conversation.  Our designs are treated as works of art, yet, we engineer them to be functional with an elegant blend of classical joinery and contemporary appeal.  Every piece we produce for our clients is truly one of a kind, crafted to embrace the natural beauty of a tree and intended to be passed down to future generations.  We have one of the largest slab inventories in Texas and in 2017 will be opening the largest thin-kerf urban sawmill in the southern U.S.   This helps use to ensure unsurpassed quality standards from rough lumber to finished furniture and we can guarantee the sustainability and environmental mindfulness of our products.   We believe strongly in urban forest re-use and support its community education and awareness.
100% Genuine American Handmade Furniture

Exotic metal fabrication, Electroplating, Castings, Ironwork

Sustainable Forestry, Sawmilling & Kiln Drying

Design Services, CAD drawings & 3D Modeling

Proprietary oil finishes, 100% Natural Non-Toxic Finishes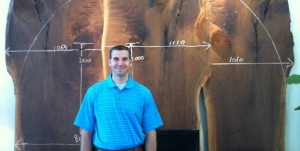 Devin conceived Refined Elements to pursue his lifelong passion for woodworking, urban forest re-use, furniture design, and social entrepreneurship. He has a long career designing, developing and commercializing well over $500M in medical devices across 28 different countries. His diverse background in engineering, product and industrial design, manufacturing, quality systems, and product marketing is being leveraged to innovate aspects of the furniture industry & offer better products to consumers. He holds 7 patents, has a degree in Biomedical Engineering from Texas A&M, has a Master's in Business and is a globally certified Project Manager Professional (PMP). He is married with a lovely girl and two boys.
Aaron brings a diverse wealth of knowledge in woodworking, real estate investing, home renovations and business management. He takes immense pride in customer service excellence and voice of the customer product design. We are very proud to say that he is a veteran and served 7 years of active military service. With the highest attention to detail and honoring traditional woodworking techniques, he creates timeless, one-of-a-kind functional forms built with imagination, curiosity, and a deep respect for sustainable materials. He holds a Bachelor's Degree from St. Edwards University and is married with 2 wonderful boys.
Sarah Ginther is focused on accounting and back-office operations. Prior to being a mother of 3 kids (not including Devin), Sarah was collegiate scholarship athlete, professional indoor and outdoor volleyball player. After her retirement from beach volleyball, she spent many years as an accountant. Sarah has a Bachelor's of Marketing from Ferris State University and is a certified physical therapy assistant.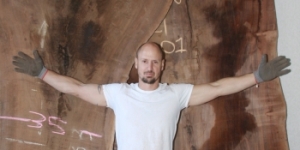 Greg Scott is one of our original Master Craftsman and helps support the RE family part-time. Greg actively works as a general contractor in the home renovation industry. He has owned and managed a successful roofing & siding business before pursuing his desire to lead residential renovation projects. As part of the Refined Elements family, he brings a wealth of carpentry, installations, and design.