Make Handmade Request Now
Natural Live Edge Handmade Furniture, Urban Wood Furniture, Live Edge Wood Slabs, Urban Lumber, Urban Sawmill, Walnut Dining Tables, Contemporary Heirloom Furniture
Our products are created as works of art, yet, we engineer them to be functional & ergonomic for all. Every piece we produce for our clients is truly one of a kind, is crafted to embrace the beauty of nature, and is built to last generations. We may start by salvaging urban trees. 2-3 years later, these trees are re-born into heirloom furniture.
Make Handmade Request Now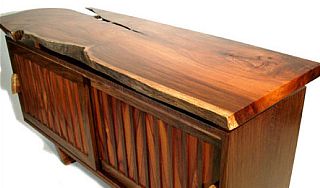 Timeless Collections
Every piece we produce is a timeless & extremely valuable collection piece from now to generations in the future.  Sustainable wood slabs are only decreasing in their availability as the population increases.   You can be rest assured that our reclaimed furniture & live edge furniture collections is an investment to be enjoyed for generations.
Real American Furniture
Refined Elements is focused on creating 100% USA handmade furniture.  Our reclaimed furniture, reclaimed wood dining tables & live edge wood products are crafted using classic wood joinery w/ a balance of contemporary design & modern materials.  We offer standard designs to 100% novel.
Soul of the Tree
George Nakashima is regarded as the father of live edge furniture design, his work has greatly influenced our philosophies and personal relationships with our raw materials.  Each piece we create is truly unique.  We may inventory certain pieces for years until the right project presents itself.   Our creative nature is only limited by the box placed around us!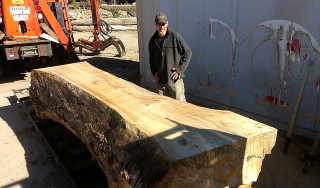 Sustainable Wood Slabs
We are one of few handmade furniture makers that is active in sustainable forestry practices from forest mgmt to tree removal, re-planting efforts, log selection, saw milling, & timber drying.  In fact, we commonly supply many other live edge furniture makers in TX & throughout the US.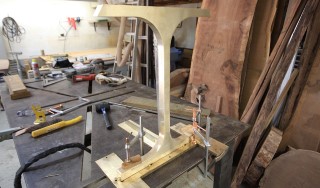 Solid Bronze & Elegant Bases
When combined with bronze, stainless and other solid materials, our live edge wood creations can achieve a formal appeal.  RE is one of the few reclaimed furniture and live edge wood craftsman that has the in-house capabilities to work across a large platform of materials & elemental designs.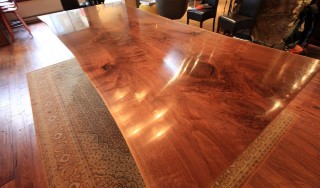 Hand Rubbed & Eco-Finishes
Our goal is to exceed expectations  & our finishes are no different.  In fact, we have yet to see a live edge table finish that meets our quality standards.  We don't use satin additives, everything is hand applied & polished, no sprays, petroleum free solvents, & we offer a 100% natural Eco-Finish.
Quality not Quantity
We seek to build a relationship with every piece in our shop.  Each project receives our devotion regardless if it is a live edge wood cutting board or a customized reclaimed wood dining table.  We are not a production facility, nor want to be.   Every new client becomes an extended part of the Refined Elements family.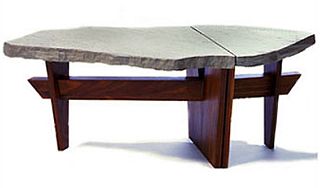 Blend of Classic w/ Modern
We apply classic craftsmanship while not ignoring modern advancements in tools & machinery.  This allows us to expand use of materials far beyond just wood.  While we greatly admire & respect centuries old woodworking approaches, we don't feel it should limit our creations.  No worries, we keep our chisels sharp!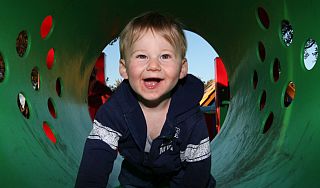 From Our Family to Your Family
We know it is naive to believe that money doesn't matter.  We also know that true happiness in life ultimately comes down to family & relationships.  We are dedicated to providing services & creating products that not only bring happiness to our families but bring happiness to yours.  We treat each client as part of our extended family.
Design Outside the Box
We simply love to build stuff from exact drawings provided by an end user, interior designers or architect to an out of the box idea.  Our shop was founded by two designers by education and professional trade.  Design is part of the service we provide from artistic sketches to engineering drawings & 3D renderings.
From the Forest to your Home
Our design philosophy is greatly inspired by a dedication to using sustainable wood slabs & building sustainable relationships.   Although our main time is dedicated to design collaboration & production, we dedicate part of our time at the birth place of our materials.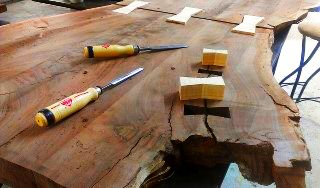 Refined Rustic Furniture
Depending on the project & client, we may start w/ perfectly clean or highly rustic elements.   We consider rustic areas to be the most organic & often suffused w/ character. Our eyes see cracks & voids as opportunities for creativity which further defines individuality.  Rustic becomes Refined.
Make Handmade Request Now
Real American Handmade Furniture, Reclaimed Wood Dining Table, Live Edge Dining Table, Live Edge Wood Slabs, Live Edge Coffee Table
If you don't see it, we can custom build it. Our product start in nature as diseased or hazard prone trees. We nurture them in rustic form, reclaim them and transform them to be used & enjoyed for generations of family members.
Make Handmade Request Now
In order to succeed in building and maintaining a nationally recognized brand, we treat each customer as our first customer. Our unwavering attention to our customers, designs and products parallels our commitment to uncompromising service & quality of work.
Although we have yet to reach it, we constantly strive for perfection. Our business is focused on family values. We focus on personal accountability, integrity and customer centricity. We develop and produce every product with the attitude that it will become a high value museum piece & something we would be proud to display in our home.
Everything we design for our clients is handcrafted in America and receives our utmost attention, regardless of the price point. No detail is too small and your voice is extremely important to us. Success in life is about positive relationships & family, we consider every client to be part of the Refined Elements family.
Devin delivers an awesome product. He personally hand picked the Michigan Black Walnut for my dining room table. It is so large that we wanted it to be 2″ thick so that it didn't look too thin….Everything is the highest quality and expectations were met….(click testimonial button for more)…
From concept to installment, our live edge wood table from Refined Elements is one of the best house purchases we've ever made. When my husband and I moved several hundred miles away from near Refined Elements, the artist personally dropped off our table and spent time installing and polishing it in our home. We were in awe – of the beautiful table and the fantastic experience with Refined Elements. Other tables we looked at of this quality were 2-3x the price….(click testimonial button for more)…
Keep in touch with Refined Elements through your favorite Social Media sources!  We would love to hear from you!!