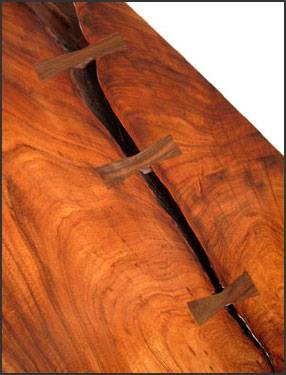 Homemakers and condo dwellers over the last 10 years have been crazy about overseas factory manufactured furniture products.  The reason is simple: They are ubiquitous, inexpensive and readily available in the market, 24/7. This furniture can be seen at your friend's or relative's home and even at less expensive hotels. The moment you enter at the hotel lobby, you see the same sofa that you sit on at home. Most of this furniture cannot withstand a typical use environment for more than 10 years and since they are produced in bulk, factory defects are inevitable.   Why not invest in handmade furniture which is intended to last for generations?
Advantage of Buying Handmade Furniture
Factory made furniture are appealing to end users as it is cheap and tend to follow the latest design trends.   Consumers tend to buy things that their friends bought to catch up the latest style in the market, not knowing that their design will not last long.
Wise shoppers buy handmade furniture for the following reasons:
They are created with immense detail by the hands of a skilled artisan as compared to high volume manufacturing or low labor manufacturing plants.   There is a personal relationship between the craftsman and furniture piece being crafted.
Each furniture piece is one-of-a-kind and can be customized to please your taste, physical limitations (ergonomics),  space constraints, etc.
You can get collaborate on custom designs to ensure a novel piece of furniture.
You can rest assured knowing that your furniture will someday be considered a valuable antique.
You can enjoy competitive prices and trade discounts from Refined Elements compared to expensive retail stores.
They are timeless organic art forms.
Make the Most of Handmade Furniture
At Refined Elements, our handmade furniture is made of the highest quality wood products. We can guarantee of excellent furniture pieces at competitive prices.
For further details contact us, or Call us today 512 762 5898 !