Most people opt to buy things and furniture that are made of laminated woods and / or plastic because they are easy inexpensive to manufacturer and much less costly to purchase for the average homeowner.   Problem is, their construction materials and techniques to not typically lend themselves to a lifetime of use.   Cosmetically, they typically look nice from a distance but upon close inspection the craftsmanship or manufacturing techniques are often poor quality. If you are planning to buy furniture for your dining room, you might consider a custom reclaimed wood dining table that will serve as a centerpiece and conversational piece in your home.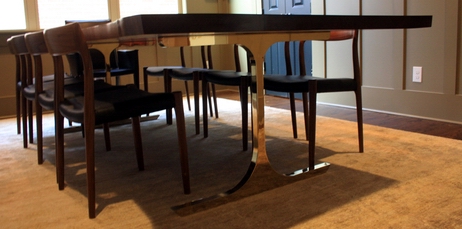 The Advantages of Buying Reclaimed Wood Dining Table
A reclaimed wood dining table is a practical option because of their benefits such as:
The reclaimed timber evokes timeless beauty as the furniture ages; the grain defines the personality and character of the wood.
The solid mature wood will stand with the test of time unlike laminated, veneer or plastic furniture.   After decades of use, it can be easily re-finished and restored to new condition.
Solid wood is also left to patina and wear naturally.   The personality of the furniture is continually evolving over time.It complements with your other decorative pieces and provides a natural warmth to the interior spaces.
They are environmentally friendly. The wood is re-purposed from dead or fallen trees or created from large timbers sourced from an old building.
Let Us Help You with Our Genuine Reclaimed Wood Dining Table
Genuine reclaimed wood dining tables are normally handmade from timbers that do not exist in today's natural forests.   The tightness of the grain, color and overall character of the wood cannot be easily reproduced.   Most of these dining tables are sourced from either large planks, beams, joists of old houses, mills, factories, farm houses or milled from dead or diseased trees that can be literally centuries old. In their original state, the trees may have been witness to many of America's historical events. Having a reclaimed wood furniture piece means so much to its owner, as this rare product will often stir the curiosity and appeal of your guests.
Discover authentic wood dining tables at refinedelements.com and you will be amazed at our creations. We have a team of highly-skilled craftsmen who specialize in reclaimed and natural live edge furniture design and construction using traditional woodworking techniques.   Refined Elements designs and creates some of the highest quality, handmade, natural products that exceeds the likes of Hudson Furniture Inc, BDDW and many others but at more affordable prices.
Fill your homes with our unique creations and if you wish to customize your order, we are more than willing to listen to your suggestion. Call us today 512 762 5898 !