Have you ever wondered how rustic furniture would like in your home?  One of the most popular furniture styles today is rustic furniture, and you will find it adorned in hotels, restaurants and homes. They make every nook and cranny look beautiful with natural and organic elements that bring such warmth and dialog to the interior of a home.  Problem is, some people associate rustic style to a old western saloon, log cabin deep in the woods or country style interior decor.    Well, this couldn't be further from the truth, especially for a Refined Elements piece.   We offer sophisticated rustic furniture which commonly blends modern and contemporary elements in our designs to create truly refined look that can be enjoyed in a wide variety of interior designs.
Why Decorate Your Home with Rustic Furniture?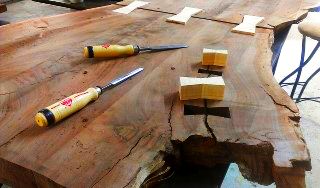 Rustic furniture provides a natural appeal to your home that no other type of furniture can equal.  The pieces can be rich with history and provide eco-friendly charm.  Our collaborative designs are versatile in the sense that they blend well across a variety of architectural structures. Whether it is a chair, a table or a credenza, natural rustic elements make the setting truly fascinating. The elements of this furniture design consist of:
They are handcrafted to give the furniture a more refined appearance.
The wood is harvested from mature trees that are typically either hazards or diseased.
The wood is also commonly reclaimed wood from salvaged buildings.
Brings natural appeal and an organic look to your home.
Customizing Rustic Furniture to Suit Your Taste
A good choice of furniture defines the character and taste of the homeowner. If you are tired of your current furniture pieces, why not have a modern-rustic design for the furniture in your bedroom, kitchen and living room. They also make perfect decorative pieces for the patio and terrace as they can blend well with your garden setting. Handcrafted tables and chaise lounge can be customized to meet your personal needs.
Refined Elements can offer a wide array of design concepts, and we greatly enjoy collaborative design sessions with our clients.  We would like to hear from you, Call us now 512 762 5898 or Email Us!